Day 3 : Viridian Omega 3:6:9 Oil Half Price when you Buy Viridian Clear Skin Complex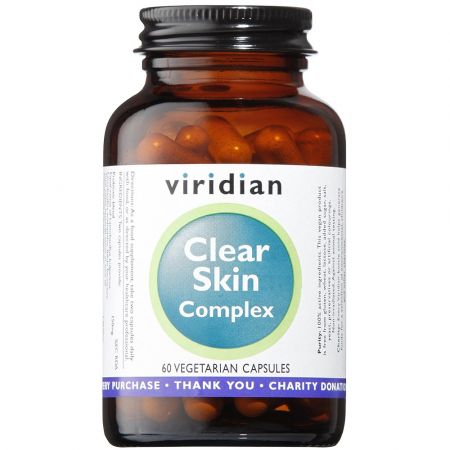 Special Offer:
Viridian Omega 3:6:9 oil half price when you buy the Clear Skin Complex.
To shop this offer :
1. Add both  Viridian 3:6:9 oil and Viridian Clear Skin Complex to you cart
2. Use code CLEARSKIN50 at checkout  
Today we are talking about skin from within. As much as I love my natural beauty products, as a nutritional therapist, I know that what is happening inside the body has as much, if not more, of an influence on the skin and external beauty. I spend a lot of time working on health reviews for people struggling with skin conditions – eczema, acne and sensitivities. I love working with my friend Hanna @mygoodnessrecipes who has had dramatic results in clearing her skin conditions through diet and now shares her story and has helped thousands of people.
In my work I have found a few key triggers to skin conditions (I will write a full blog on this very soon, watch this space). These are the immune system, stress, hormone changes, food sensitives and chemical sensitivities. I work with people one to one to help identify their triggers and we offer skin prick food intolerance testing through the clinic. There are also a few key nutrients and supplements to consider alongside a diet plan :

1. Probiotics. These always feature in a clear skin plan due to their role in immune balance and the bacteria in the gut and on the skin. There is a huge connection between gut health, skin health and hormone health.

2. Zinc. Zinc is the mineral for skin healing and the immune system. You can find it in meat, fish and seeds or supplement in a citrate or picolinate form

3. Essential fats. Omega 3 fats help to balance the inflammatory response (think redness and irritation. Your skin cells also consist of a fatty acid membrane, so these good fats are so essential for healthy skin.

I can, and will, go on about these and others so much more so please keep checking in. You can also book a health review with myself or one of the team so we can give personal recommendations (link in bio)
For now, if you do want to get started, I highly recommend Viridian Clear Skin Complex along with their omega oil and Hanna Sillitoe probiotic (available @mygoodnessrecipes )

Now the Offer : Buy Viridian Clear Skin complex and receive Viridian Omega 3,6,9 oil half price. Available online via link in bio or mention this post in store.