Get the Glow with Skincare Tips from Claire Bossons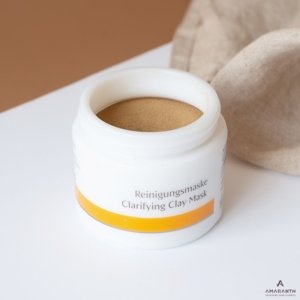 Dr Hauschka Esthetician and SKN-RG Advanced Therapist

So many of you will be missing your regular facials at the moment, this doesn't have to mean you can't keep your skin in tip top condition though, especially as many of us have more time on our hands at the moment. I wanted to share with you some ideas that I have picked up along the way in my work as an Esthetician which may be helpful to you achieving this.
Starting the day the right way is key for my skin, if I make good choices from here my skin definitely thanks me for it. I go through phases of being committed to this but when I do I truly notice the difference, so first drink of the day has to be warm water with manuka honey and apple cider vinegar, it's a change at first if your used to the typical English breakfast tea but it's funny how quickly you get used to it and once you see the benefits it encourages you to keep going!
The next thing I do is simmer up a pan of herbal tea to sip throughout the day, my favourites for skin health are typically nettle leaf which has been used for centuries as a skin purifier, peppermint for cooling the skin and fennel seed for flushing out impurities. Once the tea is cooled pour into your favourite jug and sip away. If something looks nice you are more likely to want to eat/drink it I think so choose a nice water bottle to drink from or your favourite mug to sip your herbal tea and keep them by your side throughout the day, this way you'll soon be ensuring your getting correct hydration . Water is of course one of the secrets to beautiful skin, as is correct nutrition, beautiful skin comes from within after all.
After breakfast I find it good to prepare some snacks for the day, not only does it ensure I am getting essential nutrients needed for healthy skin but it stops me from eating rubbish (not all of the time of course!!) If I wait till I am hungry I'll normally reach for something less healthy but if I prepare some salad sticks for example; celery/carrots/cucumber/radishes/peppers I will normally keep on track.
When it comes to meal choices for the rest of the day try to include fruit and vegetables with high antioxidant properties so things like blueberries/blackberries/cherries/spinach/beets/red peppers/broccoli/carrots. These antioxidants help slow down oxidation preventing wrinkles and aging.
In addition to all the above what you use topically on your skin is also really important, I thought I would share with you my typical weekly skincare routine you may like to try or adapt whilst your unable to come in for treatments;
Cleansing
It is important to cleanse in the morning in order to wash away impurities that were excreted from the skin during sleep, I like to use Dr Hauschka cleansing cream, it contains almond and extracts of herbs such as anthyllis, calendula and rose, your cleanser should exfoliate gently leaving new skin cells intact not stripping on the skin leaving it feeling tight or dry. Finish with splashing the skin with cool water. Cleansing at night follows much the same pattern, Dr Hauschka cleansing milk to remove makeup, followed by Dr Hauschka cleansing cream for a deeper cleanse, I try where possible to start this process around teatime, 5/6 o clock as this is when our skin naturally begins its regenerating process so working with your skins natural rhythm is helpful.
Toning
There is often a common view that toners are a waste of time and money and are drying on the skin and is often a stage people choose to skip. The traditional view of the toner's function is to restore the PH of the skin and 'close the pores'. Our pores play an essential role in the elimination process and we therefore would not want them to close. So why do we need a toner you may ask? Well, a toner's real purpose is to support, help strengthen, promote the tone and elasticity that is required for healthy breathing skin. When our pores are strong and have good elasticity they are able to excrete toxins more efficiently, in other words toners like Dr Hauschka facial toner have the ingredients that support and encourage the inner eliminatory processes. Finally a toner helps prepare the skin for the next step and acts as a carrier for your moisturiser.
Facial Steam
Prepare your facial steamer by adding some Dr Hauschka Clarifying Steam Bath and place a towel over your head and shoulders, depending on your skin at the time adjust the time you steam for, typically 5/10 minutes but judge your own skin's comfort on this, if you don't have a steamer a bowl of hot water will be fine. This process will open your pores further and prepare the skin for the next step, the mask...
Mask
I like to use the Dr Hauschka Clay Mask as my first mask as it deeply cleanses my skin, reduces redness and inflammation and doesn't break me out in spots! On to my second mask, this is what I consider a real treat for my skin, I alternate depending on the needs of my skin at the time, sometimes it's a hydrating mask, sometimes it's one to revitalise, if you don't have masks at home here are some simple recipe idea's for homemade face masks;
Strawberry Yoghurt Mask
¼ cup organic strawberry yoghurt – spread evenly over clean face and leave for 20 minutes, this mask will hydrate and brighten the face due to the mild lactic acids and small amount of AHA's
Honey Mask
This mask hydrates and purifies, spread raw honey over clean face avoiding eye area and leave for 20 minutes, gently tap your fingers around areas where pores may be clogged, this action will create tiny suctions and help dislodge blackheads and such like.
Removal of masks is best with warm water and a face cloth such as a organic muslin cloth, these are more hygienic than traditional flannels and they are much softer on your skin. I also like to add to my water my choice of Dr Hausckha bath essences, normally moor lavender or lemon lemongrass, these really soften the water and are a game changer for your skin trust me...
Once skin is clean, spritz with toner and leave to breathe freely at night or if you have treated your skin in the day finish with your choice of day cream and eye cream.
Don't forget to apply your SPF on top of your moisturiser, natural skincare like Dr Hauschka don't include SPF in their products, this is a question that always comes up and the answer is purely this, the job of a moisturiser and the job of sunscreen do different things, a moisturiser is to penetrate the dermal layers whilst the SPF should sit on the surface to reflect harmful rays, how can one product do both jobs effectively?  Apply your chosen sunscreen after moisturising underneath makeup to protect your skin.
What else is in my beauty cupboard at home?
Let me start by explaining when you work in a fabulous natural health and wellbeing shop purchasing gorgeous skincare and supplements to help with skin health is VERY easy to do, I truly believe in everything I invest into, that's not to say my skin is perfect by any stretch, of course our skin is unique and depends on many factors, but here are my beauty hero's at the moment;
Altrient C – Super absorbable form of vitamin c, potent antioxidant.
Planet Paleo Collagen powder – helps to keep skin firm and prevents lines and wrinkles.
Nikki Hill Apothecary Milk Thistle tincture- supporting your liver can have great benefits on your skin health also, it is important to help the liver's ability to detoxify and eliminate toxins which may otherwise be excreted through the skin.
I hope you found some of these tips and advice useful, I look forward to seeing some of you again in clinic soon for some lovely pampering facials!
Take Care
Claire

x
So many of you will be missing your regular facials at the moment, this doesn't have to mean you can't keep your skin in tip top condition though, especially as many of us have more time on our hands at the moment. I wanted to share with you some ideas that I have picked up along the way in my work as an Esthetician which may be helpful to you achieving this.