How to Thrive on a Plant Based Diet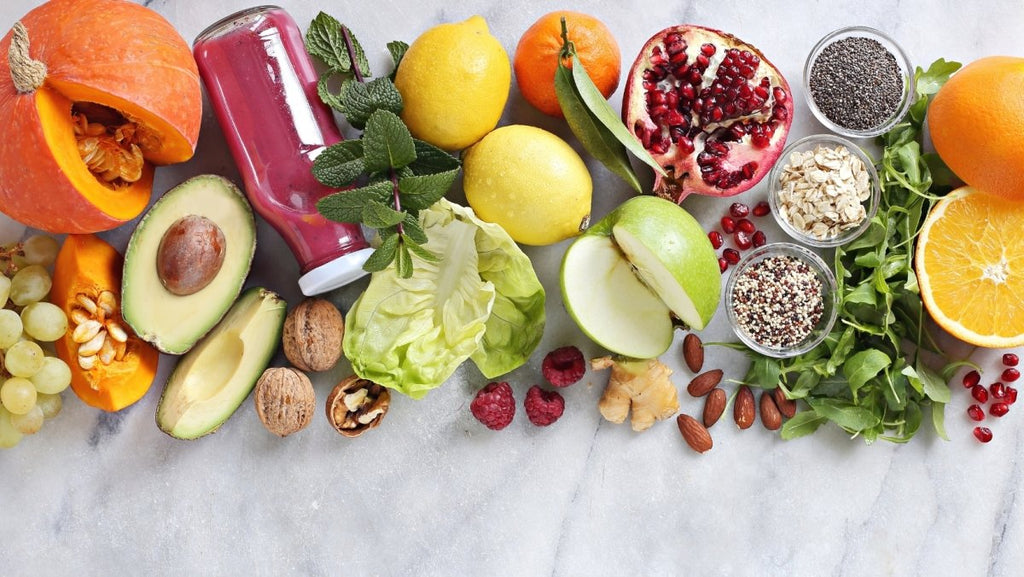 By Nutritional Therapist Zoe Taylor 
The vegan diet is growing in popularity, the trend rising fasting amongst 15-34 year olds1.  It is seemingly easier than ever to follow with increased access to information, widely available vegan products and a new wave of vegan restaurants - but what's the science?  Amaranth Nutritional Therapist Zoe Taylor explains in our latest blog.
There are many proven health benefits to the vegan lifestyle when implemented safely.  A well-planned, varied vegan diet can increase your intake of protective nutrients and minimize the dietary factors implicated in several chronic diseases.   In the last two decades vegan diets have been used therapeutically for coronary heart disease, diabetes and some cancers with significant results2,3.


Health Benefits Include:
Reduced risk of heart disease – vegans tend to have lower cholesterol levels and lower blood pressure4.
Reduced risk of some cancers – due to less carcinogen exposure and increased fruit and vegetable intake.  Cancer rates are typically 50-70% lower in vegetarians than the general population5.
Reduced risk of obesity – vegans tend to be leaner with a lower BMI thus reducing the risk of several chronic diseases6.
Reduced risk of type 2 diabetes – a high fibre diet aids blood sugar control. Diabetes rates for vegans and vegetarians are less than half those of the general population7.
 Now, before you go dashing off to the vegan aisle in your local supermarket please note that a diet based on vegan 'junk foods' will not proffer these benefits.  Vegan cheeses, chocolates, ready-meals etc. like any processed food, are often high in trans-fats, salt and sugar.  Turn your attention to REAL FOOD. 
Being well-prepared and well-informed is essential - small steps or a phased-implementation may be easier in some cases8. 
The primary concerns of a poor vegan diet relate to low intake of the following nutrients:
Protein  

Omega-3 fats    

Iron       

Zinc

Vitamin B12       

Calcium

Vitamin D           

Iodine  
So what can we do to make sure we are getting it right?
 
Protein: Include a variety of plant-based proteins such as pumpkin seeds, lentils, chickpeas, quinoa, beans and nuts.  Although protein deficiency is rare, it is essential to vary your intake to ensure you consume the full range of amino acids that your body requires.
Plant-based proteins may be less digestible than proteins from animal products; a daily intake of 1g per kg of body weight is recommended9.  Protein powders are a simple way to top up your intake.  We love the vegan options in store from Purition, Vivo Life, Pulsin and Supernova. 
Omega-3 fatty acids: Due to the absence of marine-sourced fats, vegan intake of omega-3 can often fall below the recommended requirements10.
Combining whole food sources of ALA with supplemental algae-derived DHA & EPA will help optimise levels11. Food sources of ALA include chia, flaxseed, hemp seeds and walnuts.
We stock a wide range of vegan omega-3 supplements in both Manchester and Bramhall including Cytoplan capsules and liquid supplements from Vivo Life and Viridian. 
Iron and Zinc: Vegan diets commonly contain higher amounts of phytates, found in whole grains and legumes, which inhibit the absorption of iron & zinc12.  Food preparation techniques such as soaking, sprouting and fermenting can reduce phytate levels and increase bioavailability13.  Reducing intake of tannins, found in tea, coffee & cocoa may also assist with absorption.
Iron is one of the most common nutritional deficiencies, yet many plants provide this important mineral.  Sources include beans, seeds, lentils, chickpeas, green leafy vegetables, mushrooms and dried apricots.  Iron uptake is increased when eaten alongside vitamin C such as peppers, kiwifruit, oranges and berries.
Plant-based sources of zinc include nuts and seeds, beans, legumes, quinoa, mushrooms and spinach.  Again, be sure to soak legumes and grains.
Simple tests are available to determine both iron and zinc levels.  Diet changes or appropriate supplementation can be outlined by our qualified nutritionists. 
Vitamin B12:  Primarily available from animal food sources, many vegan diets lack adequate levels of vitamin B12.  Daily supplementation is recommended to ensure optimal levels of this essential vitamin are met14,15.
There is a range of vegan vitamin B12 supplement options on our shelves.  Viridian offer a high potency capsule (1000 µg), Vivo Life offer B12 in liquid form (500 µg per serving) and Cytoplan offer a capsule (1000 µg) to be taken sublingually for those who may not absorb other forms as well. 
Calcium: Calcium is the most abundant mineral in the body.  There are many vegan-friendly sources of calcium including leafy green vegetables, legumes, almonds, dried figs and chia seeds3.  A rich and varied vegan diet can offer good levels of calcium but exercise caution with salt and caffeine as these can increase calcium loss.
Additionally, low vitamin D levels can reduce calcium absorption.
Vitamin D:  Vitamin D is naturally present in very few foods, it is primarily produced by the skin following sunlight exposure.  Due to the cooler climate, many Northern Europeans have low levels of vitamin D, particularly during the winter months. 
The richest food sources of vitamin D are animal derived and many supplements are developed from lanolin in sheep's wool and so are unsuitable for vegans.  
Recent research has shown both algae and lichen to be rich in vitamin D3 and we stock supplements derived from both.  Viridian's lichen supplements are available in liquid and capsule form, and are available in doses of 400, 1000 and 2000IU.  Vivo life's liquid vitamin D3, derived from algae, is 2000IU.  Pop in store for more information16,17. 
Iodine:   Plant foods contain variable and often low amounts of iodine. The amount is dependent on the soil in which the plant is grown.   Good vegan sources of iodine include mushrooms, strawberries, kelp and sunflower seeds18.
Although seaweed is an excellent source of iodine, some types are contaminated.  Our Viridian kelp supplement is a fully organic whole food harvested from the oceans surrounding Iceland and Ireland.  Each capsule offers the full recommended daily intake19.
 
The Bottom Line:
The biggest difference between a healthy and unhealthy vegan diet is the lack of whole foods.  To avoid the most common issues outlined above avoid processed foods and include a wide variety of plants to ensure optimal nutrient intake.  If you extend your vegan lifestyle beyond the month of January then you may need to consider supplementation.  A good quality B12 is recommended as a minimum, alternatively the new Viridian Nutrition Vegan Multivitamin contains essential vitamins and minerals and has been designed to fill common nutritional gaps in a vegan diet.
A healthy, plant-based diet requires preparation, information, reading labels and a degree of discipline but don't forget to have fun.  Eating a primarily whole food diet can buffer the odd vegan sweetie.  There are plenty to choose from, my personal favourite is the Love Raw Salted Caramel Butter Cups!
Enjoy this sample menu to get you started:
Breakfast
Overnight chia oats, with almond milk, almond butter, berries and pumpkin seeds.
Lunch
Warm carrot, red onion and lentil salad, with watercress, coriander & pine nuts
Dinner
Roast vegetable & chickpea stew, made with courgette, aubergine, red onion, garlic & tomatoes, served with quinoa or roast sweet potato
If you do decide to take part in Veganuary be sure to let us know how you get on via our social media channels.
The information contained in this article is not designed to diagnose or treat any health conditions. Supplements and dietary changes should only be made with the advice of your healthcare professional.  It is essential that you inform your healthcare provider of any medications you are taking before starting to take any supplements as they may have serious interactions.

At Amaranth we have a team of registered Nutritional Therapists who are available for one to one consultations and who are also available to offer shop floor advice.  Call in or phone 0161 439 9856 (Bramhall) for more information.


SOURCES
Whyte, C. (2018). 'Living on The Veg', New Scientist, 3162, pp.26-31
Fraser, G.E. (2003). 'Vegetarian Diets: What Do We Know of Their Effects on Common Chronic Diseases', American Journal of Clinical Nutrition, 89 (5), pp.1607-1612
Melina, V. & Davis, B. (2003). The New Becoming Vegetarian: The Essential Guide to a Healthy Vegetarian Diet. 2nd edn. Healthy Living Publications
BHF. (2018). Can a Plant-Based Diet 'Reverse' Heart Disease? [Online]. Available at: https://www.bhf.org.uk/heart-matters-magazine/nutrition/ask-the-expert/plant-based-diets
Lanou, A. J. & Svenson, B. (2011). 'Reduced cancer risk in vegetarians: an analysis of recent reports', Cancer Management and Research, 3, 1–8
The Vegan Society. (2016). Can A Vegan Diet Prevent Obesity? [Online]. Available at: https://www.vegansociety.com/whats-new/blog/can-vegan-diet-prevent-obesity
Glick-Bauer, M. & Yeh, M-C. (2014). 'The Health Advantage of a Vegan Diet: Exploring the Gut Microbiota Connection', Nutrients, 6(11), pp.4822–4838
The Vegan Society. (2018). How to go vegan. [Online]. Available at: https://www.vegansociety.com/go-vegan/how-go-vegan
Brathwaite, N. et al. (2003). 'Obesity, Diabetes, Hypertension, and Vegetarian Status among Seventh-Day Adventists in Barbados: Preliminary Results', Ethnicity & Disease, 13 (1), pp.34-39
Dinu, M. et al. (2017). 'Vegetarian, Vegan Diets and Multiple Health Outcomes: A Systematic Review with Meta-analysis of Observational Studies', Critical Reviews in Food Science & Nutrition, 57 (17), pp.3640 – 3649
The Vegan Society. (2018). Omega-3 and Omega-6 fats. [Online]. Available at: https://www.vegansociety.com/resources/nutrition-and-health/nutrients/omega-3-and-omega-6-fats
Marsh, K. et al. (2012). 'Health Implications of a Vegetarian Diet: A Review', American Journal of Lifestyle Medicine, 6 (3), pp.250–267
Rogerson, D. (2017). 'Vegan Diets: Practical Advice for Athletes and Exercisers', Journal of the International Society of Sports Nutrition, 14 (36)
The Vegan Society. (2018). Vitamin B12. [Online]. Available at: https://www.vegansociety.com/resources/nutrition-and-health/nutrients/vitamin-b12
Holford, P. (2004). The Optimum Nutrition Bible. London: Piatkus Books. pp.474 – 493
Office of Dietary Supplements. (2019). Vitamin D. [Online].  Available at: https://ods.od.nih.gov/factsheets/VitaminD-HealthProfessional/  
Viridian Nutrition. (2019). Vitamin D: Q & A. [Online]. Available at: https://www.viridian-nutrition.com/blog/qa/vitamin-dqa
Osiecki, H. (2014b). The Nutrient Bible. 9th edn. Australia: Bio Concepts. pp. 176-178
Viridian Nutrition. (2019). Organic Kelp. [Online]. Available at: https://www.viridian-nutrition.com/shop/Organic-Kelp-P595.aspx
The vegan diet is growing in popularity, the trend rising fasting amongst 15-34 year olds. It is seemingly easier than ever to follow with increased access to information, widely available vegan products and a new wave of vegan restaurants - but what is the science? Amaranth Nutritional Therapist Zoe Taylor explains in our latest blog.