Natural Ways to Sooth Childhood Eczema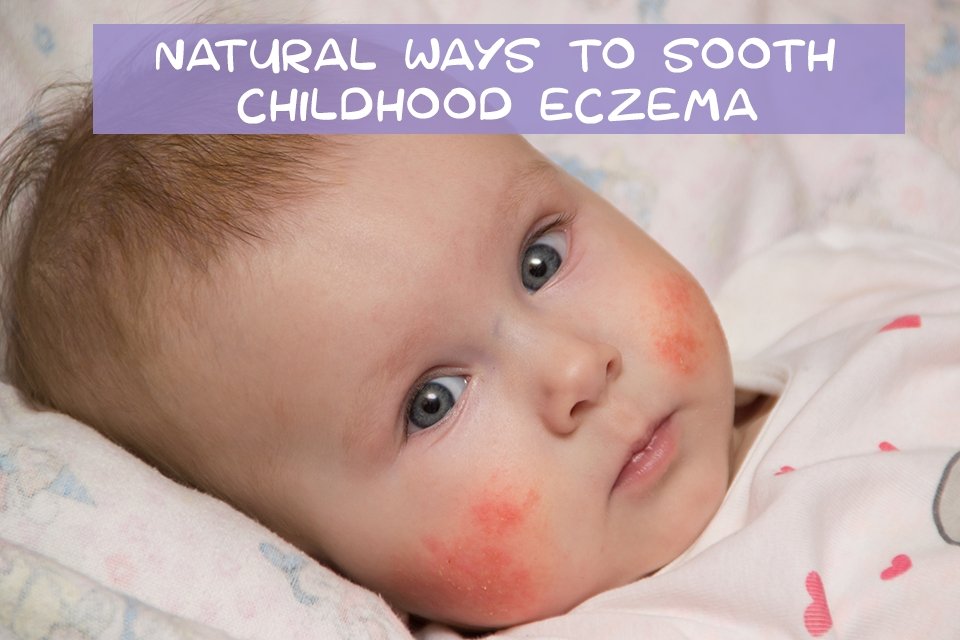 Eczema is a very common skin condition affecting at least one in every five children in the UK at any one time. It is a type of dermatitis or inflammation of the skin and is characterised by irretractable itching, red, sore and dry, cracked patches of skin which commonly affecting the elbows, hands, face, neck, feet and back of the legs. There is often an imbalance in the immune system leading to the description of "atopic eczema"; with atopy describing the genetic tendency to developing allergic disease. Children with eczema often have a family history of eczema, asthma or hayfever. Factors that may contribute to the worsening symptoms of eczema include changes in temperature, infections, some foods, commonly dairy and eggs, emotional upsets and to exposure to washing detergents, skin and hair care products that contain harsh and unnecessary chemicals. Given the role of the immune system in eczema and dermatitis it is important that we consider what is going on inside the body as well as well as what we are putting on our children's skin.
Internal factors to consider
One theory for the increase in prevalence of eczema is the "hygiene Hypothesis". This refers to the clean practices of human beings in the modern world. This leads us to a lack of exposure to microbes in the developing immune system of babies and children and resulting in abnormal responses to even mild germ exposure.
In recent times there has been a lot of information regarding the health of the gut and the micro-organisms that live there contributing to the important role of the immune system. Probiotics are known as the good or beneficial bacteria (microorganisms). A particular type of probiotic – Lactobacillus Rhamnosus used in infancy has been shown to help prevent allergies and atopic eczema, by regulating the immune response
Viridian Nutrition Rhamnosus
 is a powder that can be taken in pregnancy, especially if there is a tendency to allergic disease in the family. This can also be taken by babies and children to support the reduction, frequency and severity of atopic allergies.
Eczema may have food triggers due to an immune system that has become sensitised to components in certain foods. Common triggers are dairy, eggs and wheat. It is advised that you do not exclude food groups from your children's diets without advice, speak to your GP or our nutritional therapists if you would like to discuss this further.
In recent years, there has been an increased interest in the role that 
vitamin D
 plays in the immune system and, in particular, allergic diseases. Therefore, you may wish to optimise your child's vitamin D levels. The nutrition team at Amaranth can advise you on the most suitable vitamin D options for your little one.
Skincare and Topical products
Eczema and inflamed skin can be aggravated by some skincare products and soothed by others.  At Amaranth we advocate the use of natural ingredients such as calendula, lavender and natural oils. Choosing natural skincare products can however be a very difficult task.

 A few considerations on natural skincare:
In the cosmetics industry (unlike the food industry), the terms 'natural' and 'organic' are not regulated. You may think that a product containing the word 'natural' or displaying an image of natural plant ingredients, is free from synthetic chemicals.  Often this far from the truth.
You may also think that a product using the term 'organic' contains only organic ingredients. Again this is often far from the truth. Products with only 1% organic ingredients can be marketed as organic.
You may believe that a product labelled 'hypoallergenic', 'simple' or 'tear kind' contains only gentle natural ingredients. In reality these products contain many synthetic chemicals which may aggravate the skin.
Big brands know that consumers are looking for natural skincare and so they will use tricks and misleading advertising to make products appear natural.  A term known as 'green washing'. One of our favourite that we are happy to name and shame is the Simple brand. The claim 'The special blend of natural plant oils and moisturising goodness contains chamomile, lavender, glycerin and pro-vitamin B5 is so gentle it is suitable for newborns. Soap Free, Hypoallergenic' A bit of digging however and we find it contains sodium laureth sulfate, a synthetic chemical ingredient that can agrevate sensitive skin.
If you are looking for products to use on your babies and children that really are kind to their skin, we suggest that you check that label and avoid any that contain the following ingredients:
Sulfates/Sodium Lauyl Sulphate
Foaming agents and emulsifiers that help the skin feel squeaky clean.  The ingredients are known to cause skin and eye irritation. Also labelled as Sodium Lauryl Sulphate, Sodium Laureth Sulfate, SLS, SLES, Sodium dodecyl sulphate, Dodecyl sodium sulphate, SLS, Lauryl sodium sulphate, Sodium laurylsulphate, Sodium lauryl sulfate, Sulphuric acid monododecyl ester sodium salt
Methylisothiazolinone
A preserving and sanitising agent which is a common skin irritant.  MI has now been banned in leave in products due to health concerns but it still features in many face and body washes. Look for Methylchloroisothiazolinone,  Methylisothiazolinone, MCI, MI.
Parabens: 
The most commonly used preservative. Parabens are permitted in the EU but only at certain levels due to concerns of exposure at higher levels.  Known as Ethylparaben, butylparaben, methylparaben, propylparaben, isobutylparaben, isopropylparaben, other ingredients ending in –paraben, para-hydroxybenzoic acid
Triclosan
Anti bacterial agent used in toothpastes, soaps and deodorants.  Triclosan is banned for use in the US as it has not been proven to be safe or have any benefits but it is still permitted in the EU.


Avoiding These Ingredients
The skin and bodycare brands we stock at Amaranth do not contain these ingredients.  We have samples instore so call in to collect a sample pack to try with your family.

A few of our favourites to consider are:
Green People.  This UK based, organically certified brand is our go to for their childrens range of shampoos and body washes. The Green People Childrens Lavender Burst shampoo and bodywash are our best sellers. Suncare products can be a big problem for eczema suffers, many of our customers report that the Green People sun protection is the only one they can use
Weleda.  Our customers love the Weleda baby range for its soothing and healing bath products (including baby Calendula Shampoo and Body Wash and Baby Care Cream Bath), creams and balms. Their face cream soothes facial eczema and the Weather Protection Cream is a winner if eczema flares up in the cold weather
Salcura.  A range specifically formulated for skin prone to eczema and dermatitis.  Junior body washes and shampoos are available the range.  The range also includes treatment products including the famous Salura Junior Dermaspray and Bioskin Junior Outbreak Rescue Cream.
Salcura contains only natural ingredients which serve to calm and nourish the skin and reduce redness and inflammation. As the skin lotion or moisturising sprays contain no mineral oils the skin is allowed to breathe and naturally regulate its moisture levels.
For further advice please contact the Amaranth team. We suggest that you talk to a member of the team for further advice before taking any supplements.  
Contact us at
hello@amaranth-wellbeing.com
or 0161 439 9856

References
Kalliomäki M, et al. "Probiotics in primary prevention of atopic disease: a randomised placebo-controlled trial". Lancet (2001) 357:1076–9.