We Won!! Amaranth are The Best Independent Natural Beauty Retailer 2022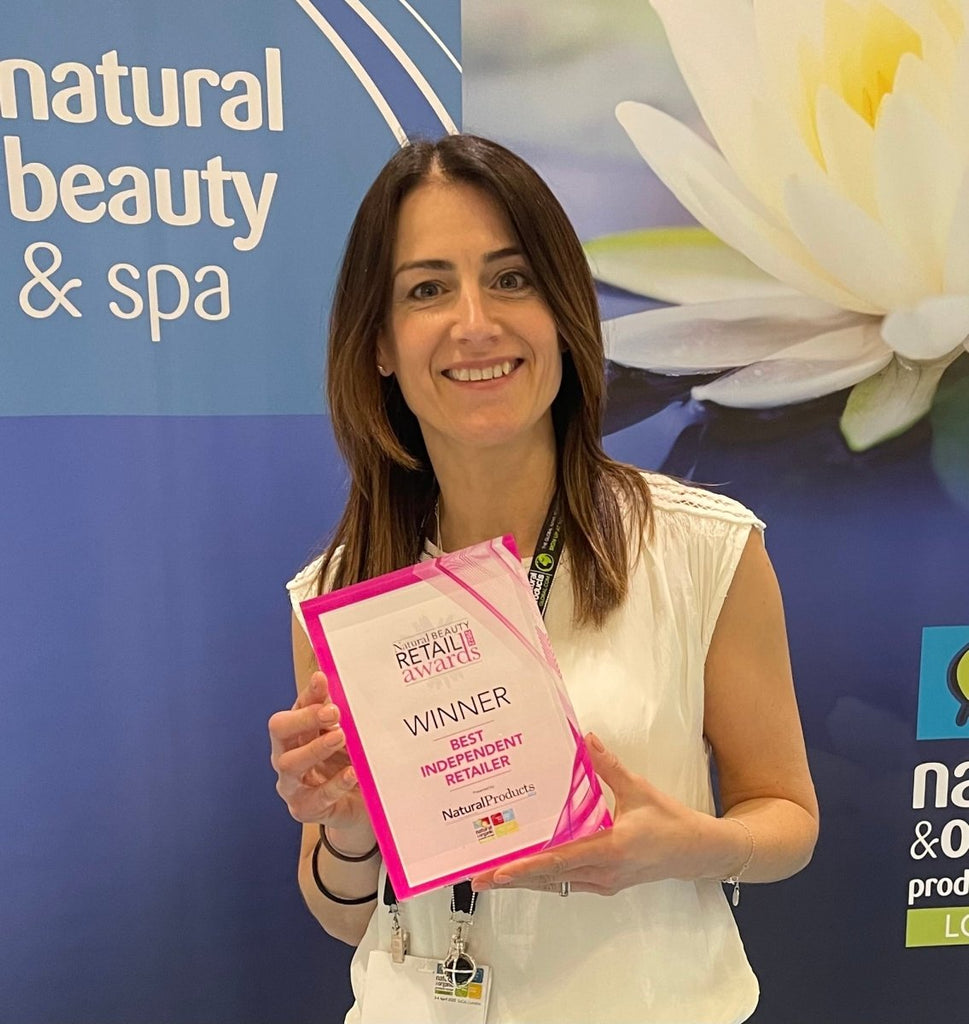 We have some very exciting news to share, Amaranth have been awarded the Winner of the Best Independent Retailer at the Natural Beauty Retail Awards 2022. This means that we are the best independent natural beauty retailer in the whole of the UK!!
It goes without saying that we are pretty delighted and of course we need to celebrate.  Watch this space as we will have some very special offers on our best selling natural beauty brands coming up and we are busy planning natural beauty events for both of our stores.
If you want to be the first to hear about our offers and celebrations please sign up or follow us on Instagram
If you want to find out more about the awards and Amaranth then please read on!
About the Awards
Hosted by Natural Products News, the Natural Beauty Retail Awards are designed to recognise and celebrate the importance of a great retail experience, while also increasing awareness of organic and natural beauty.  The awards are judged by a panel of industry experts and the awards were presented at Natural & Organic Awards Europe, on Sunday 4th April, in the Natural Beauty TALKS theatre. 
About Amaranth
Amaranth is a multi award winning natural health, beauty and wellness store in Greater Manchester. 
Amaranth was founded in 2012 by Joanne Hill, a nutritional therapist with a passion for all things natural and organic.  Joanne had trained in nutrition after her own journey with her health, having been diagnosed with a hormonal condition, PCOS in her early 20's.  Joanne researched the condition and discovered the link between diet, lifestyle, stress and hormones.  Through addressing each of these she was able to reverse the condition.  At this time, Joanne also began to find evidence that certain chemicals commonly found in skincare, could impact hormones and future health.  From that point on she switched to using skincare and makeup produced only from natural ingredients. 
A passion for natural and organic became a career as she went back to college to study naturopathic nutritional therapy, graduating from the College of Naturopathic Medicine in 2010.

With a desire to share as much information as possible about nutrition, wellness and natural beauty, Joanne opened the first Amaranth store in Greater Manchester in 2012. The store provided high performing, yet clean and cruelty free, health and skincare products along with a team of wellbeing experts to provide knowledge and advice.  The natural beauty and wellbeing offering was enhanced, with the addition of Claire Bossons, a Dr Hauschka esthetician to the team. Treatment rooms were added to bring a holistic health, beauty and wellness experience from inside and out.
By 2015 Amaranth were gaining national recognition and were awarded the coveted Natural Products Independent Retailer or the Year award.  Since then more awards have followed including Natural Beauty Retailer of the Year (2016 & 2018). In 2018 Amaranth were voted ahead of John Lewis and Boots to take home the Highly Commended Best Retailer at the Natural Health Magazine International Beauty Awards.
Covid and lockdown brought some difficult days, but Amaranth modified the offering to bring natural beauty, health and wellness advice online with virtual consultations, virtual events and a national delivery service through www.amaranth-wellbeing.com.

The Amaranth stores are now back open with exciting plans for 2022 and beyond. The Natural Products Show held in April awarded Amaranth as the Winner of The Best Independent Retailer at the Natural Beauty Awards 2022.  Amaranth continue to be a leading stockist of wonder brands including Dr Hauschka, INIKA Organic, NEOM Organic, Wild Nutrition and Viridian Nutrition, alongside niche beauty and wellness brands. The Amaranth team of experts are here to go the extra mile to help customers feel content with their health.