Rheal Superfoods Review: Elevating Your Nutrition with Nature's Best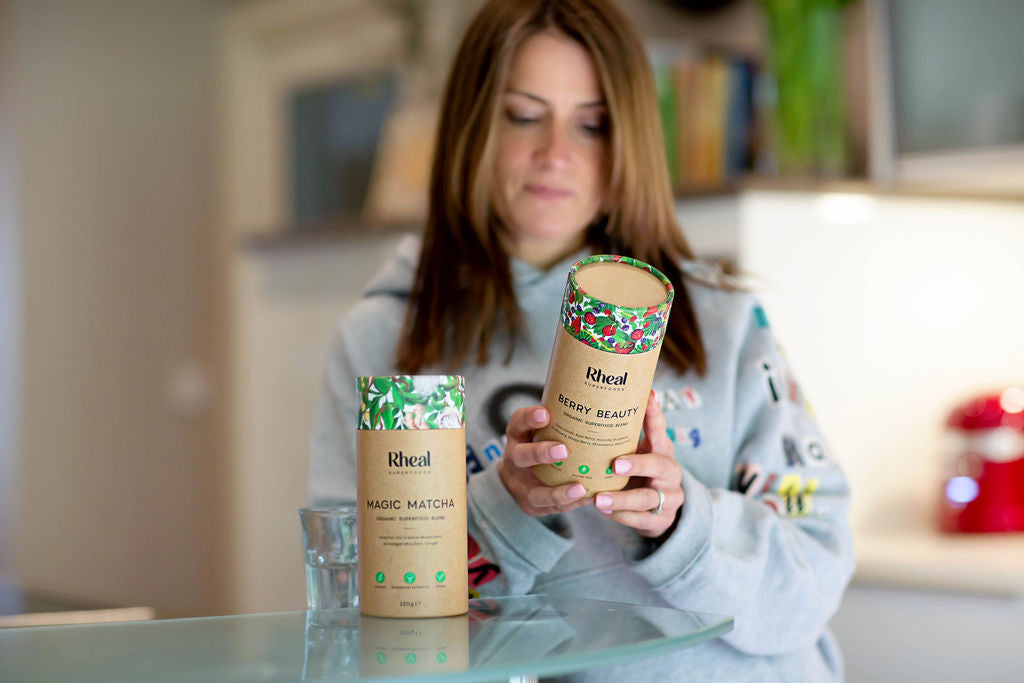 In the quest for a healthier lifestyle, many of us turn to superfoods to boost our nutrient intake and overall well-being.  With hundreds of brands out there and, far too much information available on the internet, it can be hard to know which products to choose.
A relatively new product to market is Rheal Superfoods. Our nutrition team discovered Rheal towards the end of last year and just had to find out more about the brand. They liked what they found, Rheal Superfoods are clean, organic and contain a great blend of synergistic superfoods.  In this review, our in house Nutritional Therapist Joanne, explains why Rheal Superfoods should be a part of your day.


About Rheal Superfoods
Before delving into the products, it's essential to understand the brand behind them. Rheal Superfoods were created as a result of the health journeys of the founders, Charlotte and Sean.  Charlotte has the autoimmune condition Coeliacs, and Sean was diagnosed with a form of cancer, Hodgkin's Lymphoma when he was just 26 (he is now in remission).  Superfoods have had a powerful influence on their health, so they founded Rheal Superfoods with the mission to make the power of superfoods available for everyone. In 2021 Rheal Superfoods went to the next level as they appeared on Dragons Den and received the offers they were looking for from all five Dragons.
Rheal Superfoods contain the most nutrient dense ingredients on the planet, and they are designed to boost immune health, energy, focus and fitness.  In my opinion Rheal Superfoods are ahead of all others on the market.  Here are some reasons why :
Rheal Superfoods offer great blends, each targeted to what you are looking to achieve.

There are blends for hormone balance, beauty and skin, energy and cleansing, all with the very best plant ingredients for the purpose.


All Rheal Superfoods are certified organic.

This is so important – superfood blends are super rich in nutrients, and you certainly don't want them to be compromised by pesticides and other chemicals.


Rheal Superfoods are B Corp certified. B Corps are businesses who have been recognised as having high standards of social and environmental performance, transparency and accountability.




They taste – not too bad! Some superfoods, (especially the green powders – spirulina, cholerella, matcha) are very bitter and nasty to drink so Rheal have added nutrient rich fruit powders into the blends to soften the taste.

Other products such as Berry Beauty and Cacao Dream taste really good and you will enjoy adding these to your daily routine.


They are easy to use.

I add mine to my morning soothie but you can stir into juice, add to hot or cold food or make into energy balls.

 

They contain organic plant ingredients and nothing else.

You won't find artificial flavours, sweeteners, or binders in Rheal products. You will find a very concentrated dose of plants that are the richest source of nutrients in the world.

The Products
So let's talk about the Rheal Superfood products, why I love then and which is the one for you. 
Balance Tonic
Balance tonic has been designed to support hormone balance for women throughout their monthly cycle.  It contains some of my favourite herbs Ashwagandha, Shatavari and Maca. These are well-known adaptogens used to support mental health, sexual health and energy levels.  It also contains Wild Blueberry, Hibiscus and Baobab. These are superfoods that  are rich in antioxidants and phytonutrients, providing wide-ranging health benefits such as immunity and skin health.

Cacao Dream

The one to help unwind, relax and support a better nights sleep. 
This healthier choice hot chocolate is made using organic raw cacao and cinnamon which delivers a delicious flavour.  The sweetness comes from a small amount of coconut sugar, and this means that the powder can be added to warm milk or plant milk and be ready to drink.  This unique powder is enhanced with reishi mushroom and ashwagandha to really relax the mind for a better night's sleep. Drink before bed and wake up feeling refreshed and energised the following day.
Our best seller, Rheal Superfoods Clean Greens is your daily serving of wellness. Wheatgrass, Barley Grass, Spirulina, Moringa and Chlorella pack a super green punch to provide anti-oxidant and anti-inflammatory support, and to aid detoxification pathways. Baobab, Pineapple & Camu Camu, contain powerful anti-oxidants, a natural form of vitamin C, and they help the powder to taste that bit more palatable.  If you have tried green powders before, you will know that they can be so bitter that they end up staying in the back of the cupboard where they will do you no good at all.  Rheal Clean Greens is different, I add it into a smoothie with berries and plant milk, but you can just stir into juice as a super shot or mix into energy balls.
Berry Beauty
The one for hair, skin and nails.  I have really seen a difference in my skin since having Berry Beauty and people have asked what I am taking for my skin as it is glowing!   Berry Beauty from Rheal Superfoods is a potent blend of eight nutritious superfoods that are rich in Vitamin C to support collagen production, and antioxidants to help protect against free radical damage (definitely have this one if you are out in the sun, work or live in the city or are a smoker as you will have a lot of free radical exposure which is very aging for the skin) . The formula also provides energy and digestive support to ensure you glow from the inside out.  Berry Beauty has a berry flavour so you can easily add to water, yoghurt, juice or smoothies.
For a pick me up without the jitters.  Shroom Coffee is an enhanced blend from Rheal Superfoods. It is made using organic Colombian instant Arabica coffee beans combined with Lion's Mane mushroom and KSM-66 Ashwagandha. We are all loving mushrooms right now and Lion's Mane is our favourite to support focus and brain health.  Make as you would an instant coffee and this drink will bring superpower, clarity and a calm mind to your working day.
 
An alternative to Shroom Coffee for an energy boost and improved focus but with less caffeine and the advantage of Japanese grade matcha. Matcha is a rich source of anti-inflammatory and anti-oxidant nutrients and provides a slow release of energy. Lion's Mane Mushroom is included to further support focus and brain heath, and Ashwagandha to help modulate the stress response.  I find this to be a good afternoon pick me up.  I just mix into hot water but you can make a matcha latte by whisking into warm milk.
If you need Rheal Superfoods in your life right now (let's face it we all do!),  I've put together bundles of my favourite products and you can save 15% by buying as a bundle.
To claim your 15% off bundle discount, add the following combinations to your basket:
Balance Tonic + Clean Greens
Berry Beauty + Magic Matcha
Shroom Coffee + Coco Dream
All products are also available to buy separately and you can save 10% when you sign up to Amaranth today.