The Best Natural Remedies for Hot Flushes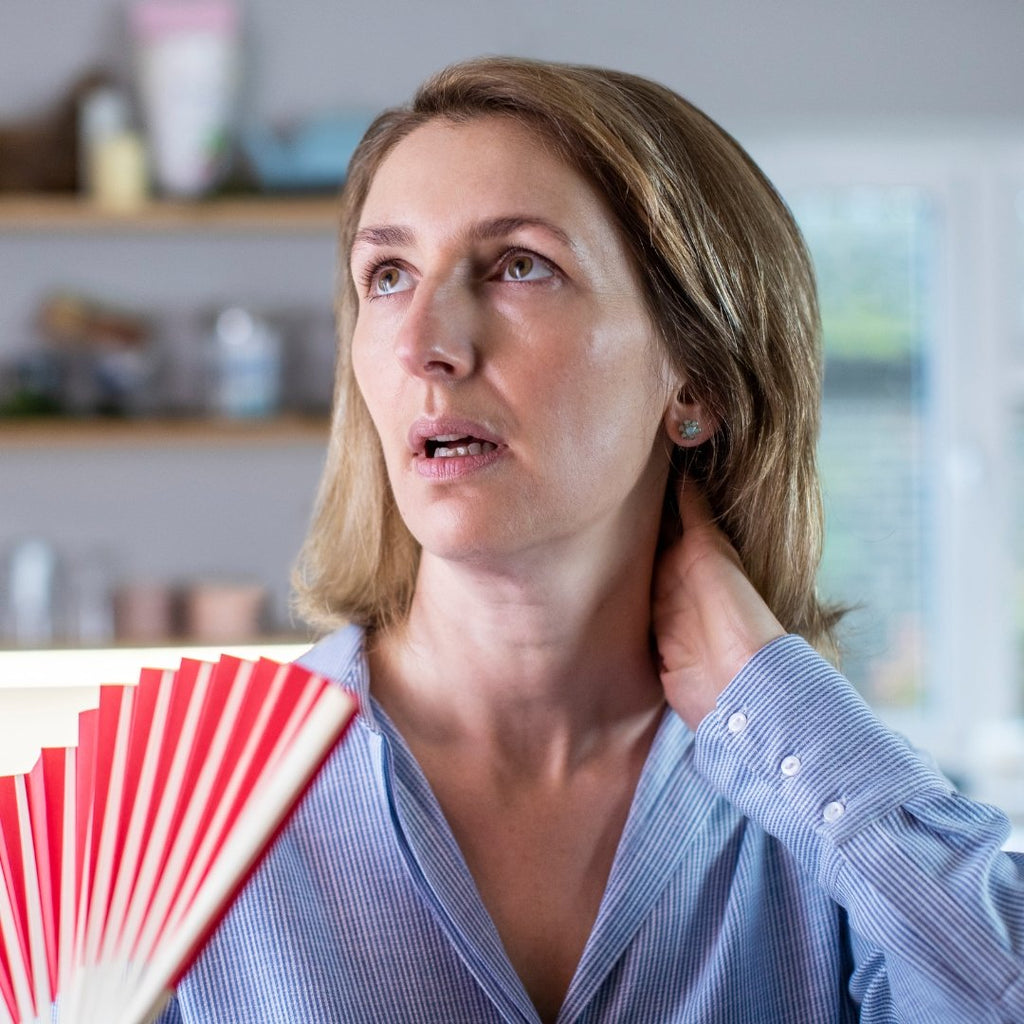 If you suffer with hot flushes you will know that they can have a big impact on sleep patterns and quality of life. Despite being one of the most common symptoms of menopause, it is a little unknown what exactly causes them, but there is a connection between the decline in oestrogen and the area of the brain that controls temperature regulation.
The team of nutritional therapists at Amaranth have been supporting women through the menopause transition for over 10 years. Here we bring you their tried and tested recommendations and best natural remedies for hot flushes :
Wild Nutrition Botanical Menopause Complex.
This unique formula targets all stages and symptoms of menopause. We have found that women report that it particularly helps with hot sweats and changes in mood. This supplement contains herbs to support the liver (for hormone processing), the adrenals (for the cortisol response) and phytoestrogens. Not just our best-selling menopause supplement, this is the best-selling product from the whole of the Amaranth collection - we keep recommending the Botanical Menopause formula because of the great feedback we receive from our customers.


 Viridian Sage Leaf Extract
Sage leaf is a herbal remedy that has been traditionally used for hot flushes. A number of studies have concluded that sage extract gave improvements in night sweats and hot flushes. We love Viridian supplements for their purity and ethics. You will not find added fillers or binders, just 600mg of sage extract in a vegan capsule.


Nikki Hill Peppermint and Liquorice Tea.
Whilst teas are not as strong as tablets or capsules, they still offer therapeutic benefits and can be a very enjoyable alternative.  It is known that caffeine and alcohol can promote hot sweats so swapping your daily coffee for a herbal tea can make a big difference.  I particularly like this formula by Nikki Hill, who is a Naturopath specialising in female health. Peppermint is very cooling and liquorice is known as a herbal adaptogen. Adaptogens are believed to balance the stress response and it is thought that stress and anxiety can be a trigger for hot sweats.
If you would like more personalised information on remedies for hot sweats or menopause symptoms, why not book a 20 minute Health Review with one of the Amaranth Nutritional Therapists.  For a £10 booking fee (redeemable against purchase) you will receive a one to one via Zoom or telephone and personalised suggestions. 
About Amaranth
Amaranth are an award winning natural health and organic beauty retailer based in the North West and online. The Amaranth team comprises of experienced and registered nutritional therapists, natural beauty experts and complementary therapists.  Consultations, diagnostic testing and treatments are offered from the consultation rooms and via Zoom.  All products offered by Amaranth are practitioner and therapist approved for efficiency, purity and efficacy.
The information contained in this article is not intended to treat, diagnose or replace the advice of a health practitioner. Please consult a qualified health practitioner if you have a pre-existing health condition or are currently taking medication. Food supplements should not be used as a substitute for a varied and balanced diet.