How To Redeem Your Amaranth Wellbeing Points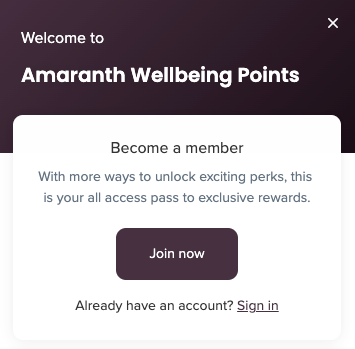 Introducing the Amaranth Wellbeing Points scheme!
Earn points on your purchases with us, that you can then use to redeem as discounts on future purchases!
How to Sign Up and Collect Points
To become a member of our points scheme, head to the Rewards widget on the bottom left of the screen, click the Join Now button.
How customers redeem points
To turn points into a reward, you will need to log into the rewards panel, accessed through the Rewards Widget on the bottom left of the website. Once they're logged in, you'll need to open the rewards panel.
Next, click on Ways to redeem.
Then, your current points total will show. Click the Redeem button.
You will need to use the points slider to select the amount of points you would like to spend, then click Redeem:
Upon clicking redeem, you will be taken to a page that shows the coupon code with a button to Apply code which will automatically apply that coupon code to the checkout.