5 Natural Beauty Products I Can't Live Without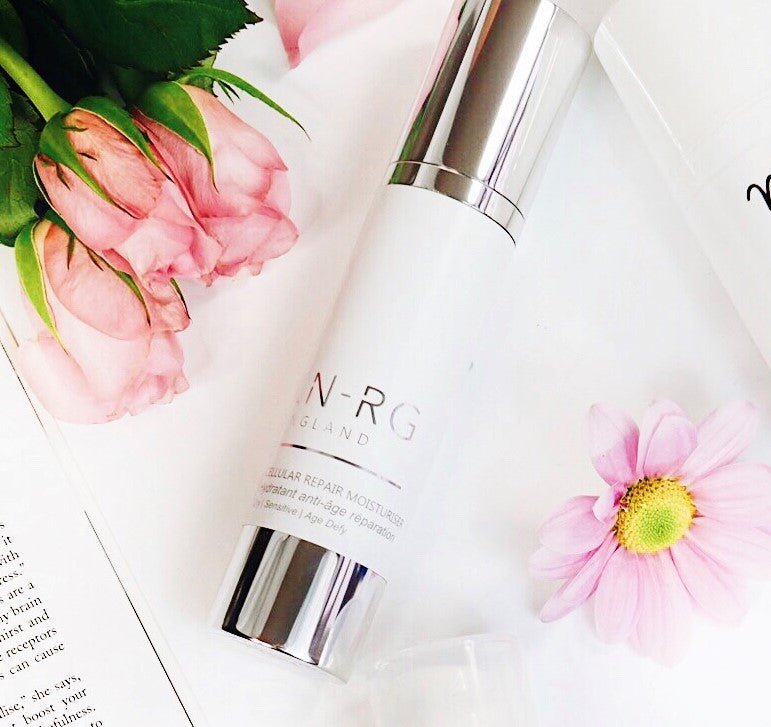 You may have worked out by now that I love natural and organic beauty.  I love products, I am obsessed with the next new thing that I just have to have, but I also choose conscious beauty.  By this, I mean that I need to know the brands behind the products, their ethics and their values and the ingredients in the products. 
Beauty can be fun, it can give confidence and transform how we feel, but to me this is only possible if the products I choose do not harm myself, others, or the planet we live in.  Natural/organic beauty harnesses planet ingredients that can benefit the skin, rather than synthetics that may do damage if they are absorbed.  Natural/organic beauty products can enter the waterways and nature without doing harm and they consider their responsibilities to the environment, constantly looking for sustainable solutions. 
So all that said, I often get asked what my favourite products are and what I use on my skin.  So here are the my Top 5, with a little bit about each brand and why I love them :


 SKN-RG are an incredible British natural beauty brand.  The products are formulated and created by skincare geeks Deborah and Rob Scott and they contain more actives than any natural beauty brand I have come across.  The ingredients are unique (you don't find platinum and plankton in many products, but they are in SKN-RG) and the results absolutely hold up to the claims.  The founders of SKN-RG have a scientific background and a passion for nature, the elements, energy and frequency.  Their products are created in an eco-laboratory on the coast in Essex, powered by green energy and solar so as not to disturb nature. Every element of the packaging can be recycled, and the products are free from eco irritants so that they can safely enter back into water and nature.
 
Hydra Veil 3 in 1 is part of the SKN-RG Evolution collection, designed primarily to protect the skin against the blue light omitted from screens. Like sunlight, blue light can damage the skin and cause premature ageing.  I certainly spend way too much time in front of a screen, and so this range is essential for me.  The Evolution range uses Plankton as the key active.  As described by SKN-RG 'this repels environmental pollution, reduces cell stress, ultra smoothing and lipo-filling',  I need all of this!
Hydra Veil 3 in 1 is a toner and a serum so you can use after cleansing and before moisturiser.  The key actives are impressive – isotonic birch sap, platinum water and plant based hyaluronic acid.  It has a gel like texture that you use in place of a toner. My skin feels cleansed, prepped and hydrated after use and I do think that over time I can see a reduction in those little lines that stresses of the last couple of years and constant laptop work have given me.  It is an amazing, supercharged product that I would recommend to anyone who spends a lot of time looking at screens and wants an all-in-one skincare solution.
2. INIKA Organics Lip and Cheek Cream
INIKA is our biggest selling natural make up range.  To me, it is the natural beauty brand that appears the least like a natural beauty brand – if that makes sense?  The look of the packaging and the products absolutely perform as well as the leading cosmetic/synthetic brands.  The products are rich in natural pigments, and they can be used to create a natural look, as well as more dramatic full makeup looks.
 The full INIKA range is certified vegan, cruelty free, Halal, gluten free and 100% natural.  The makeup packaging is currently 100% recyclable, but they are working towards a plastic neutral pledge, and this will see all packaging moving into recycled plastic, glass and sugar cane in the coming months.
 My 'can't live without' INIKA product is the lip and cheek cream.  I have a fair few so can normally find one at the bottom of a bag or in a nearby drawer.  A little pot that provides a pop of colour and renews my makeup during the day.  The formula is very hydrating with sweet almond oil and vitamin E.  It needs a little warming with the fingers to soften the natural oils but then goes on easily and colour can be built up as required.

3. Dr Hauschka Soothing Cleansing Milk
Dr Hauschka will always feature highly in the list of beauty products I can't live without.  Around 16 years ago, I was bought a set of Dr Hauschka products from a local homeopathy shop.  I loved the products and got to know the owners of the shop, I then joined the team as a nutrition practitioner, which led to me eventually creating my own health and natural beauty store in that very place – the first Amaranth store.  All thanks to a Dr Hauschka cleansing milk.

Along the way I have got to know the Dr Hauschka brand very well.  Dr Hauschka is more than a skincare brand; it represents a way of life and a philosophy.  At the heart of this is rhythm, working with the natural rhythms of the skin during the day and night and the rhythms of nature with biodynamic farming.  Dr Hauschka is one of the oldest natural skincare brands, founded in 1967 by a natural medicine doctor and a skincare expert.  The range was first launched as Dr Hauschka Healing Skincare and that is certainly how I recommend the range my customers.  Dr Hauschka is our go to for skin conditions and we have seen impressive results on acne prone skin, rosacea, and sallow skin in particularly.  I put this down to the brands roots in natural medicine and healing.

Dr Hauschka Soothing Cleansing Milk is our best-selling natural beauty product.  It is my everyday cleanser and make up remover and has been for the past 16 years.  Others come and go but this is the one I will always go back to.  The cleansing milk has a slightly floral and spa like fragrance.  It effectively removes make up yet is very gentle and hydrating, so whilst my skin feels clean it is not left feeling dry as some cleansers do.  Alongside amaryllis, the milk contains jojoba and sweet almond oil, along with a fermented blend of seed extracts and probiotic.

It is suitable for all skin types, as it is gentle yet still has actives that allow for deep cleansing.  Particularly oily or acne prone skin conditions would benefit from pairing with the cleansing cream, but I use just the cleansing milk. I have never heard anybody be disappointed by this cleansing milk so definitely recommend giving it a go.
4. Evolve Beauty Bio-Retinol + C Booster
Evolve Beauty ticks all of the boxes for me – they are 100% vegan, cruelty free, eco-friendly and despite being a growing brand, the products are still made in small batches in Hertfordshire.
Organic ingredients are used where possible, and I love the fact that Evolve are transparent about what is in their products and always striving to make improvements in ingredients and sustainability. Their latest innovation is sustainable grass paper outer cartons that are fully compostable in home compost bins.
Evolve have captured texture and fragrance in their products, they all smell divine and feel great on the skin.  They are a great choice from someone looking to switch from a chemical/cosmetic brand as you won't find an earthy smell or grainy texture – everything is beautiful.
A new launch last year, the Bio-Retinol + C Booster has become and firm favourite of mine and the Amaranth team.  The product is designed to promote radiance and improve dull and tired skin.  We all agree that this has an instant effect, makeup sits better, and we just feel a bit more 'good to go'. 

Longer term, this product should bring all the benefits of synthetic retinol products – wrinkle reduction, an increase in skin firmness and a reduction in hyper pigmentation (without the irritation and dryness that the synthetics can give).  This bio retinol effect comes from the Bakuchiol plant which is rich in vitamin A.  In addition, the product contains vitamin C, F and E for their healing and hydrating benefits.
Although this is an oil based formula, it doesn't feel at all greasy on the skin and like all Evolve products, it smells lovely, I'd describe it as a subtle floral, citrus scent which I presume is from the sea buckthorn and organic rosehip.
Zao make up deserves a place in my top five for leading the way in sustainable make up packaging, as well as having an good range of products and very wearable shades.  It is the only extensive makeup range I am aware of that offers refill products.  Zao originates from Italy and France and is only found in limited retailers in the UK, but I think we will see a lot more of it in the coming years.
At the heart of Zao is bamboo.  Bamboo is used for their outer cases and in the makeup formulas themselves due to the high silica content.  This supports the formation of collagen, giving the makeup range skincare benefits.  Bamboo is one of the most sustainable and low carbon packaging options available due to its rapid growth rate.

It's hard to pick one product from the Zao range as there are a few that I use daily, but the BB Cream is the one I can't live without.  This is a light coverage BB cream, but it has achieved the tricky task of including an SPF20 whilst still having a smooth, moisturising texture.  It does not drag on the skin as mineral based SPF products tend to, as the sun protection is provided by natural Karanja oil.
Other ingredients of the BB cream include their signature bamboo extract rich in silica to support the formation of collagen, the patent ingredient Aqualxyl for enhanced hydration and pheohydrane to prevent moisture loss.  For younger skin, this product could take the place of a moisturiser and a light daily foundation.  My aging skin needs a little bit more extra prep for wrinkle prevention, but I still absolutely love the coverage of this and the added benefits above a regular BB cream.
So those are my favourites, I'm always happy to discover new products and brands so please do share yours.  Our expert team of natural beauty therapists and advisors are always happy to help, just drop your questions to :
hello@amaranth-wellbeing.com or call 0161 439 9856 and we are happy to help :)