Ayurvedic Holistic Facial | Ayuredic treatments in Manchester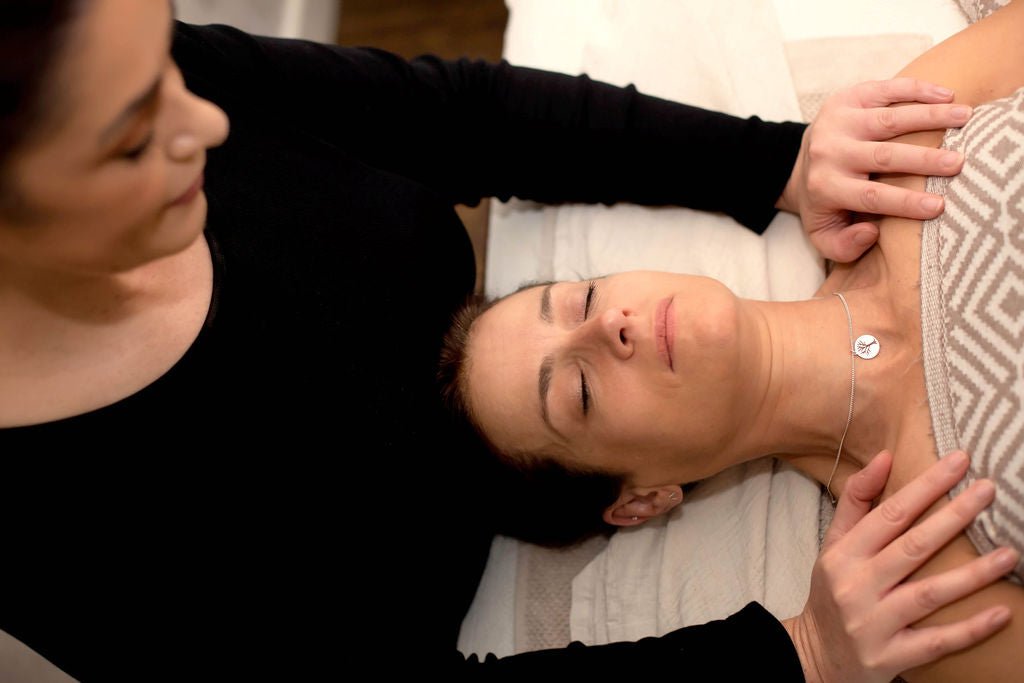 Have you been looking for Ayuredic treatments in Manchester? I am super excited to let you know that we are now offering the Ayurvedic Holistic facial from the Amaranth treatment rooms in Bramhall. Amaranth are one of just a few treatment centres to offer Ayurvedic treatments in the Manchester area.
In preparation for the treatment launch, I just had to give it a go (I get all the hard jobs), read on to discover more about the treatment and my experience.
Before I talk about the treatment itself, a little more about Ayurveda.
What is Ayurvedic Medicine?
Ayurvedic medicine is a holistic healing system, that originated in India more than 3,000 years ago.
Ayurveda works by assessing and treating the whole person, rather than just isolated symptoms, through a holistic toolkit of massage, yoga, meditation, nutrition and herbs.
Ayurvedic teaching and practices can enhance relaxation, sharpen mental focus, help with grief, insomnia and other stressful life situations. These practices can change our eating habits for the better and bring honest, nourishing skincare to our bodies.
One of the most important concepts in Ayurvedic medicine is that of the three doshas – Vata, Pitta, and Kapha. These doshas are energetic forces that are present in our bodies, and they are responsible for our physical and mental characteristics, as well as our general health. Each of us is made up of all three doshas, but we tend to have one or two that are dominant. Knowing your dominant dosha can help you understand how to best care for your body, mind, and spirit.
Massage is integral to the Ayurvedic healing system. Massage techniques are designed to balance excess doshas and direct these to the organs of detoxification.  In treatments, specific oils are oils are blended with traditional Indian herbal medicines according to the doshas.
About your Ayurvedic therapist
The ayurvedic holistic facial offered at Amaranth is performed by our Manchester therapist Jane Dagnanleach.  Jane is a yoga teacher, massage therapist, complementary therapist, a Dr Hauschka esthetician and a reflexologist.  Jane is always learning and for as long as I have known her (and that is a long time), Jane has had a passion for Ayurvedic Medicine.  She studied Ayurvedic herbs with Pukka Herbs and has followed Ayurvedic practices in her own life and practices.  So, when the opportunity came for Jane to add the Ayurvedic facial to her treatments it was the perfect match.
What Happens in the Ayurvedic Treatment
Back to the treatment itself. This treatment is a full 60 minutes of deep relaxation and rebalancing.  This treatment uses Ayurvedic massage techniques alongside Ayurvedic natural products for a facial that goes beyond the norm.
My dosha is identified as Vata, characterized by the energy of movement and frequently connected to the wind.  My skin tends to be on the dry side, my mind is always full of thoughts and I am always cold, these are all characteristics of Vata.  This holistic treatment helps to balance my doshas by using warm blankets, a facial massage that induces a meditative state and nourishing, hydrating skin care products.
My treatment started with cleansing the skin with the Tri-Dosha cleanser. This cleanser is infused with oils of grapefruit and palmarosa to cleanse, hydrate and sooth the skin.
Following this, I enjoyed an Ayurvedic facial massage. This is designed to boost energy flow, balance excess doshas and remove toxins via the lymph system.  This is an incredibly relaxing part of the treatment.  A facial massage has the ability to induce a meditative state, switch off those wondering thoughts and promote the ability to truly relax.  I could have stayed there all day.

Next a soft face scrub, formulated with powerful ingredients kutki (for liver and detoxification) and fitkari (for lightening and purification), is applied while a soothing head massage whisks stresses away.  Again, I find myself drifting in and out of deep relaxation.

Next, a face mask made from neem (which is known for cleansing and anti-inflammatory properties) and sandalwood (also used for an inflammatory effect) is left on to work its magic, while a foot and leg massage is provided to ease tired muscles. To finish, a moisturiser is massaged in using circular motions over marma points.  Marma points are specific locations in the body where the energy of elements is allowed to flow.  Massaging these points helps to stimulate energy and balance the body.
Sadly, I reached the end of my treatment but afterwards I felt renewed and energised, yet extremely calm and relaxed.  My skin looked brighter and a lot more radiant.  I can definitely see that this treatment would be excellent for reducing puffiness, firming and toning.  Jane advised me that a course of four treatments, one every two weeks would be perfect for deeper anti-aging benefits and as a treatment for uneven skin tone.  Treatments can also be enjoyed as a one off to bring radiance and brightness to the skin or to rebalance from the stresses of life.
This treatment is so much more than a facial, it is a full holistic treatment that helps to store balance and energy to the whole body.
How much does Ayurvedic treatment cost
If you would like to experience this treatment for yourself, Jane has a special offer until 31st May 2023.  Book the One Hour Ayurvedic Holistic Facial for just £45 (usual price £55).  To book please contact us or call 0161 439 9856
Ayurvedic treatment near me
Find the Amaranth treatment room in Bramhall, Stockport.  We are less than 10 miles from City Centre Manchester. Click here to get directions to our Manchester store.